Biography Yolanda Diaz Pérez
Second Vice President of the Government and Minister of Labor and Social Economy
Yolanda Diaz Pérez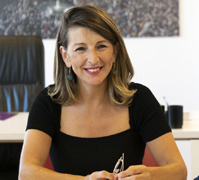 Born in Fene (A Coruña) in 1971 and graduated in Law. He completed several higher and postgraduate courses in Labor Relations; Urban Law and Territorial Planning and Human Resources. She also carried out complementary training in Social Security, labor recruitment, administration and political power and on gender.

He began collaborating with several law firms, until forming his own in Ferrol, the city in which he currently resides. During her career as a lawyer, she tackled various labor issues and problems and was an advisor to the fishermen and women association.

In 2007 she was elected councilor for the Ferrol City Council, where she formed a coalition government with the PSOE and served as deputy mayor.

In 2012, she was elected deputy in the Galician Parliament, where she served as deputy spokesperson until the 2016 general elections, which was elected to represent Galician women and men in the Congress of Deputies. Since then, he has held various spokespersons in Commissions such as Industry, Commerce and Tourism; Economy and Business Commission; Commission of Economy, Industry and Competitiveness; Deputy Spokesperson for the Employment and Social Security Commission; Deputy Spokesperson for the Commission for Territorial Policy and Public Function as well as Spokesperson for the Commission for Monitoring and Evaluation of the Toledo Pact Agreements, as well as spokesperson for the United We Can – En Comú Podem – Galicia en Común Confederal Group.
Ashley Johnson is the lead reporter for Globe Live Media on things related to Astrology, Lifestyle and Music. Being a fitness enthusiast, her background involves growing up in Beverly Hills, where She often interacts with famous Artists and also talks about their ways for a Healthy Lifestyle. She is in fact a profound Yoga student. You can be well assured about the authenticity and quality of Lifestyle, Health, and Music reports published by her.