The new combat zone will be available first to buyers of Call of Duty: Vanguard, and will be accessible to other users tomorrow.
The free battle royale Call of Duty Warzone is renewed today with the Caldera map, which renews the combat terrain of this Activision shooter for the first time . It is not about cosmetic changes or for the Christmas season, but rather moves the action to a paradisiacal and volcanic island that will close Verdansk. Of course, not all players will have access at the same time, Call of Duty: Vanguard buyers will have 24 hours of advance access to other users.
Season 1 schedule:
December 8 at 6:00 p.m. -Vanguard Season 1 begins with 24-hour early access to the Caldera map for Vanguard users .
December 9 at 6:00 p.m. -Warzone Pacific with the Caldera map is available to all users.
There's a few stops along the way before we reach our next destination. ✈️ 🏝

Drop into Season One at 9 AM PT on December 8 for #Vanguard and #Warzone. pic.twitter.com/klZfTAkMsC

— Call of Duty (@CallofDuty) December 6, 2021
Among other features, the launch trailer gives us a look at the modes coming to the battle royale , such as air battles, anti-aircraft weapons and an all-terrain transport for troops. Logically there will also be 40 weapons inspired by World War II, a dozen new Operators and much more that can be unlocked in the battle pass of Season 1. The radius and the rate at which the circle is closed has also been changed, with new events every time it happens, in addition to adding items in the scenario and in the rewards of the contracts.
Today, those without Vanguard will have a playlist focused on Rebirth Island with several modes: Resurgence and Mini Royale. Later in the season, this map will be available again with limited-time modes such as Vanguard Plunder, Vanguard Resurgence, and others yet to be announced.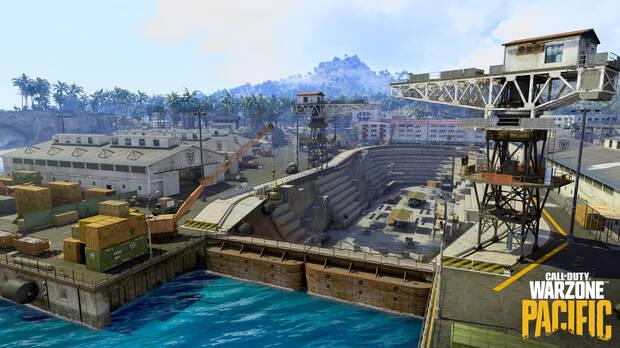 The launch is accompanied by the RICOCHET anti-cheat system
Activision will test the new RICOCHET anti-cheat system with which they hope to eliminate or at least greatly reduce cheats on PC. It works at the kernel level and will detect wall-hacks , auto-aiming programs, and other software that have marred the Warzone experience since virtually its launch in March 2020.