The Grayscale survey shows user behavior in the cryptocurrency market.
More than half (55%) of those surveyed have started investing in Bitcoin this year alone.
A quarter already owned the long-term asset before 2021.
The report surveyed 1,000 US consumers between August 12-20 , 2021 , ages 25-64, to explore the outlook for Bitcoin and assess how perceptions have changed since 2019. Despite the launch of new cryptocurrencies , Bitcoin continues to dominate discussions among investors, consultants, banks, media, service providers, regulators, and legislators.
Among the survey findings is the increased perception of Bitcoin as a store of value during unstable economic times and high inflation . Investors have shown a growing inclination to buy Bitcoin as a long-term profitable investment rather than a digital currency.
In addition, according to Graysacale, Bitcoin has reached several generations of investors , from the very young to the most experienced, including retirees who want to consider Bitcoin investment products as a component of their portfolios.
Respondents participated with less than $ 10,000
All respondents participated in some form of personal investment, with at least $ 10,000 in active investments (excluding real estate or workplace retirement plans) and at least $ 50,000 in family income.
As big banks continue to struggle to interact with Bitcoin, adoption of the cryptocurrency is only increasing, according to the survey. The share of Americans owning Bitcoin increased 26% in 2021, from 23% in 2020.
More than half (59%) choose to invest through a cryptocurrency trading app such as eToro or Coinbase , which represents a paradigm shift from last year, when more than three-quarters of investors (77% ) preferred a Bitcoin exchange .
Demand for Bitcoin has increased: More than half (55%) of current Bitcoin investors have started investing in the last 12 months . Traders remain eager to buy, sentiment mirrored by the all-time record in November 2021, putting Bitcoin closer to $ 100,000 than zero when the world's most popular cryptocurrency was trading above $ 69,000.
Of the investors who have already sold Bitcoin, 91% have made at least some profit. Even with the rise of market segments and use cases such as decentralized finance (DeFi) and non-fungible tokens ( NFT ), Bitcoin still accounts for 46% of the total value of crypto markets.
More than three-quarters (77%) of US investors said they would be more likely to invest in Bitcoin if an ETF existed. In October 2021, ProShares debuted its own Bitcoin-backed fund on the New York Stock Exchange.
Women are more likely to consider investing in Bitcoin
The notion that Bitcoin is exclusively an ancient phenomenon no longer reflects reality, according to the survey. In fact, among investors who have shown interest in Bitcoin-linked products , the largest increase in 2021 was seen among older traders.
The 55-64 investor segment, which would definitely consider Bitcoin investment products, jumped 16% in 2021. The percentage of female investors who would consider Bitcoin as an investment increased 6% in 2021 compared to 2020 levels, while that the segment of male investors in this category remained relatively stable.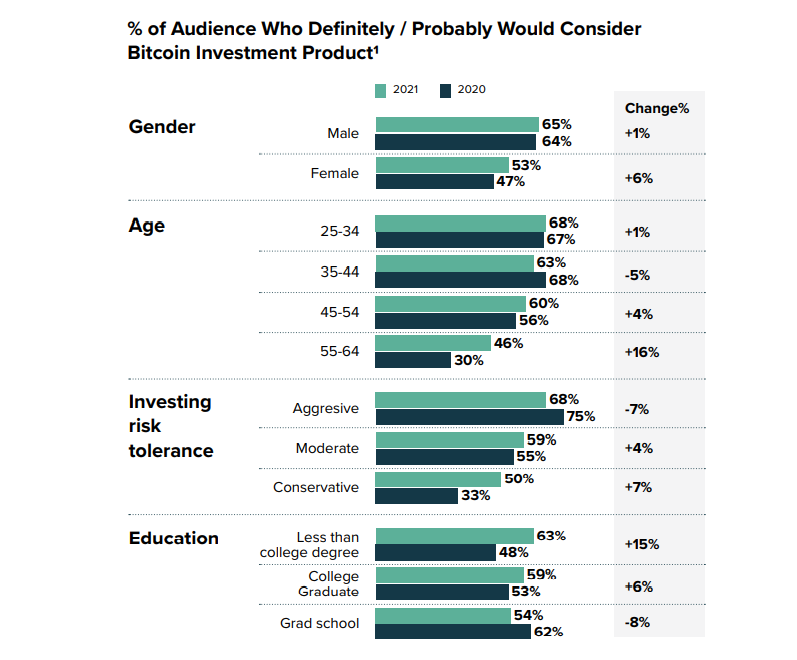 Relationship with other cryptocurrencies
Bitcoin is still the most popular cryptocurrency, but there is significant awareness of other crypto assets as "the crypto market has been flooded with new tokens, driven in large part by the rise of decentralized finance (DeFi)."
Even so, Bitcoin is still the most popular, with 99% of investors stating that they know the cryptocurrency, while 68% of investors said they had sufficient knowledge about the most valuable crypto assets. However, it doesn't mean that investors haven't heard of other cryptocurrencies. They are well aware of other digital assets whose profiles are on the rise, including Dogecoin, which started as a joke but has since gained fame.
More than half of the investors were aware of Dogecoin and Ethereum . Almost three-quarters (74%) of investors have heard of Dogecoin , surpassing the level of awareness around Ethereum (56%). Most of those who own Bitcoin and 87% also own at least one or more altcoins. The most popular include Ethereum, the benchmark platform for DeFi and NFT projects, and Dogecoin.
Perceptions remain positive
Investors are embracing Bitcoin and are less concerned about risk than in previous years. Among the main fears of traders are cyberattacks, the volatility and regulation . Around 58% of investors not interested in Bitcoin cited its vulnerability and cyberattacks as the main reason for not buying or investing in crypto.
More than half of investors (53%) blame Bitcoin's volatility for their disinterest, while 51% say their apathy towards Bitcoin is due to regulation, lack of government oversight, and transparency.