The function is available globally, does not need any requirement to activate and can also be used from any chat window. Find out how to design WhatsApp stickers from WhatsApp web.
The 
WhatsApp
 instant messaging application offers the function of 
stickers
 , which ranges from sending the originals of the app to saving those sent by your contacts. But, after the last update, you can 
create your own stickers in the web version of the application
 . Find out how to do it.
The feature is available globally and will appear on the desktop version shortly . There is no need to be registered for any beta function, in addition, you do not need any requirement to activate it and you can use this function from any chat window.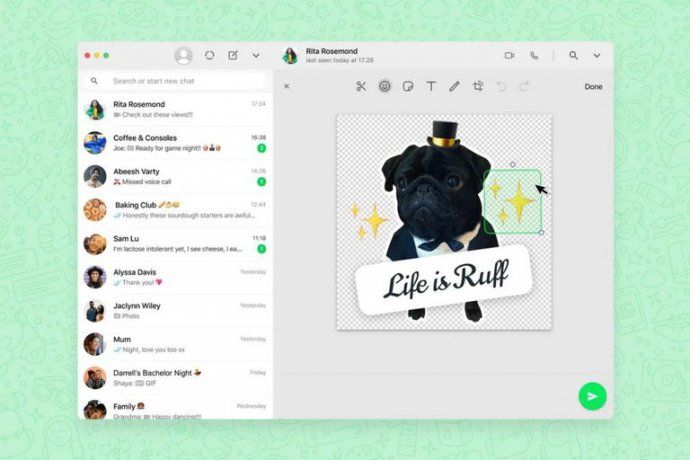 WhatsApp: how to create stickers from the web application
To create and share WhatsApp stickers in the web version, you 

need to have a chat open and click on the attach icon

 (in the form of a clip), just as if we were going to upload a video or a photo on the platform.

There will appear a new button of intense blue color (in our case, it is the fourth icon from top to bottom) and, when clicked, the application will ask us to 

attach an image

 .

After uploading it, a 

small editor

 will open where you can adjust the size and rotation, in addition to having a couple of tools that will allow you to cut the frame, add text, emojis and even add other stickers to our creation. The latter also have the possibility to change their size and location. Finally there will be the option to send.
Once the sticker is sent, it will be saved and can be sent to other contacts . From that moment on, you will already have it available on your smartphone in the 'recent stickers' tab. Finally, the creations can also be saved by other users.
So far, the function only allows you to attach JPG and PNG files , so there are no moving stickers and, if you try to attach a sticker of that format, it will remain static.
Rachel Maga is a technology journalist currently working at Globe Live Media agency. She has been in the Technology Journalism field for over 5 years now. Her life's biggest milestone is the inside tour of Tesla Industries, which was gifted to her by the legend Elon Musk himself.