Dozens of relentless tornadoes ripped through parts of the southern and north-central United States, killing at least 11 people as they tore through homes, schools and businesses and collapsed the roof of an auditorium during a heavy metal concert in Illinois.
The meteors were recorded overnight in at least seven states, flattening homes and businesses and ripping branches and bark from trees. Emergency crews across the region were counting the dead and assessing damage from the tornadoes that were part of an extensive storm system that also sparked wildfires in the southern Great Plains and blizzards in the northern part of the country.
Tens of thousands of residents were without power after the storms affected a wide swath of the country that is home to some 85 million people.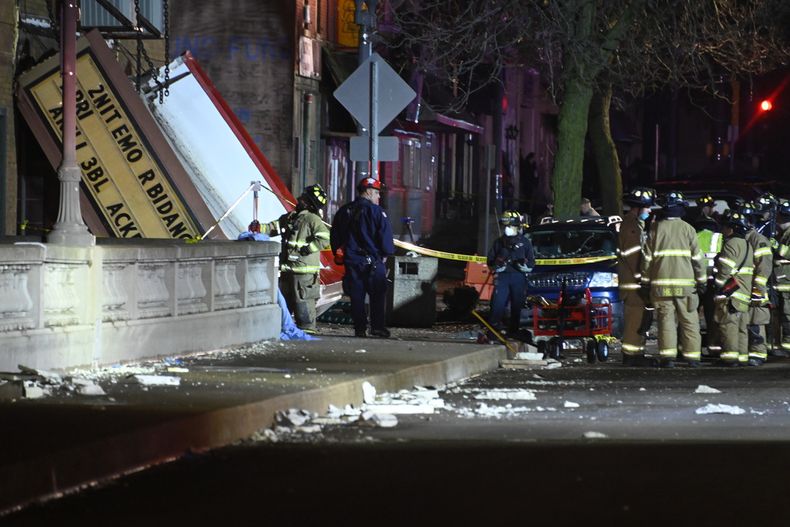 Among the dead were four in the small northeast Arkansas town of Wynne, Cross County Coroner Eli Long said. Other deaths were reported in Alabama, Illinois, Indiana, Mississippi and the Little Rock area.
There were collapsed buildings and roads were covered with debris in Wynne, a community of about 8,000 people about 50 miles (80 kilometers) west of Memphis, Tennessee. Crews sawed downed trees to clear roads Saturday morning.
"I'm in a panic trying to get home, but we can't get home," Wynne City Councilwoman Lisa Powell Carter said Friday night. "Wynne is so torn up…. There are houses demolished, trees down in the streets."
In Belvidere, Illinois, the roof of the Apollo Theater collapsed during the passage of a tornado, killing one person and injuring 28, five seriously. The collapse occurred during a heavy metal concert in this town located about 70 miles (110 kilometers) northwest of Chicago.
Police said they began receiving emergency calls from the theater shortly before 8 p.m. The venue's Facebook page said the bands scheduled to perform were Morbid Angel, Crypta, Skeletal Remains and Revocation.
The storms also killed three people in Sullivan County, Indiana, emergency management office director Jim Pirtle said in an email. Some residents were missing in the county seat of Sullivan County, near the state line with Illinois, about 95 miles (150 kilometers) southwest of Indianapolis.
"Homes in both the city and county are severely damaged and some are completely leveled," Sullivan County Sheriff Jason Bobbitt posted on social media. "Our worst fears were realized earlier when we learned that several members of our community had lost their lives."
Gas leaks were reported in the area and the sheriff's office ordered people to stay in open areas to make way for emergency services and utility workers.
In the Little Rock area, at least one person lost his life and more than a score were injured, some of them seriously, authorities reported.
The Little Rock tornado first passed through neighborhoods in the western part of Arkansas' capital city and tore through a small shopping center that included a Kroger supermarket. It then crossed the Arkansas River toward North Little Rock and surrounding cities, where widespread damage to homes, businesses and vehicles was reported.
Little Rock resident Niki Scott took shelter in a bathroom after her husband called to warn her of a tornado. She could hear glass breaking and when she came out she discovered that her home was one of the few on her street that did not have a tree on top of it.
A suspected tornado also killed a woman in Madison County, Alabama, as it destroyed several properties, county official Mac McCutcheon reported.
In Pontotoc County in northern Mississippi, authorities confirmed one death and four injuries.
Ben Oakley is the guy you can really trust when it comes to Mainstream News. Whether it is something happening at the Wall Street of New York City or inside the White House in Washington, D.C., no one can cover mainstream news like Ben. Get a daily dose of Trustworthy News by Ben Oakley, only at Globe Live Media.
Write to me: benogoakley@outlook.com