If we thought her triumph at Las Ventas on Friday was enough, the truth is that we were totally wrong. Emilia Mernes hit the sold-out during her first show in the capital and invited artists like Ptazeta, Aleesha, and even her boyfriend, Duki, on stage. However, for an Argentine star, it had little taste, and this Saturday, the Uñas Chung Lee room broke again with her perreo on the floor.
The emotional hangover didn't stop her from thrilling, feeling, and exciting us with her great songs from the hand of the LOS40 scene presented by our host, Cris Regatero. The dozens of lucky people who won our contest were once again able to enjoy her laughter, her voice, and her live music.
With a smile from ear to ear, her mythical brishitos in her eyes, and amidst the applause, the artist appeared on stage, greatly thanking everyone who shared this show with her. The nerves were palpable in the environment, not just from her audience but also from Emilia.
The event started with the Argentine answering some questions from her fans and took the opportunity to talk about her second album, which made her leave "her comfort zone and start rapping," she explained with a laugh.
Her Wild Dog
The audience was in a musical mood, and Emilia didn't keep them waiting, kicking off her show with Recaliente. With her four dancers and her musicians who accompany her at each concert, she would arrive with Wild Dog, and the thousands of fans who sang all of her songs from start to finish fell apart.
One of the most anticipated songs, as well as the best-known, was The Chain, and obviously, it was part of the LOS40 Stage setlist. But the show had just started, and that's how Emi wanted to release it with her hit single, "It's only just begun."
Emilia Mernes at the LOS40 stage /
LOS40
"Thank you for the love. It's a pleasure to be here with you. I see a lot of familiar faces, and it makes me happy," said the Argentine star, giving way to one of the most special blocks she had prepared for this concert. It was time for "My Other Half," and for this, the artist took a fan on stage to share this ballad hand in hand.
The emotion was on the surface, and the Argentine insisted on explaining the meaning of the song that followed: "I wrote it in a moment of overcoming, after going through a toxic and dependent relationship that left me in great pain," she admitted, giving way to "The Ballad," and then to "Fast Slow."
The Last Perro
After more than an hour of the show where her fans had left their voice in each song, she had had time to become "Be Real" with the public, and she had even lost one of her emblematic shards. The latest hits arrived, and there, the artist brought out her wildest side once again.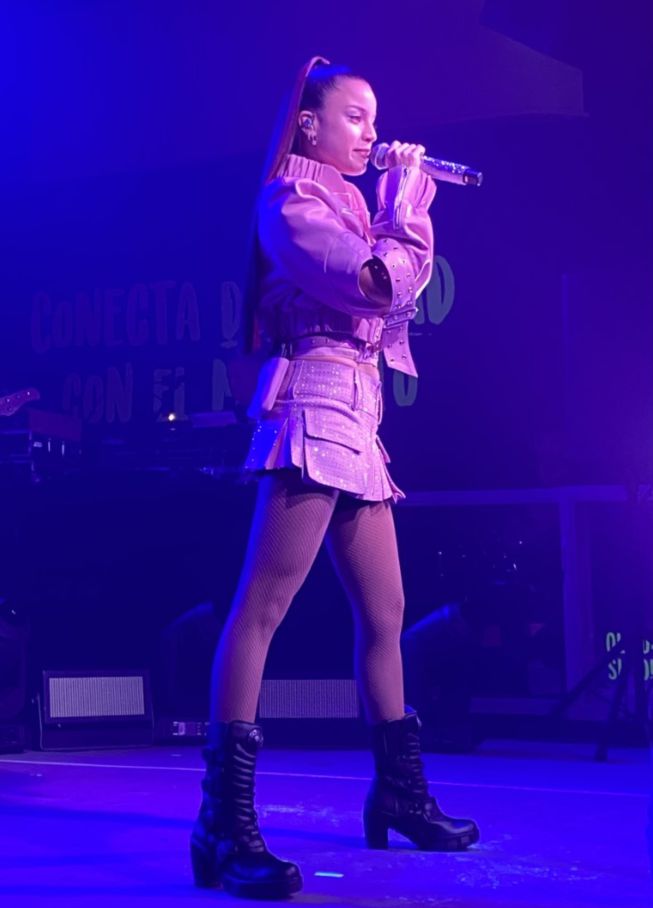 Emilia Mernes at the LOS40 stage / LOS40
It was time for "Intoxicao," this hit in which Nicki Nicole collaborates, and after that came "En La Privacidad." Emilia then presented the last song of her show, a song she sings with "a person she loves very much": "Como Si No Importara." And to say goodbye to her stopover in the capital, she closed her concert on a high note with "Eighty."
Meet Ashley Johnson, the lead reporter for Globe Live Media, specializing in entertainment, lifestyle, and music. As a fitness enthusiast and a profound yoga student, she shares her passion for a healthy lifestyle, which stems from growing up in Beverly Hills, where she frequently interacts with renowned artists.
You can count on Ashley's reports to be authentic, high-quality, and informative when it comes to lifestyle, health, and music. Additionally, Ashley is also a part-time gamer and will provide coverage for the gaming section of Globe Live Media.
With Ashley's diverse background and experience, her writing style is engaging, informative, and captivating. Get ready to immerse yourself in her world of entertainment, lifestyle and music!