Superblooms occur in California this springthanks to the extremely wet winter Southern California experienced this year, which was especially good for plants, especially wildflowers.
On April 6, NASA's Operational Land Imager-2 on Landsat 9 captured satellite images comparing an April 2022 desert in Carrizo Plain National Monument, just west of Bakersfield, with a desert in bloom. The superbloom has been found all over the Golden State, as seen in NASA photos showing the earth's impressive transformation.
According to ecologists at the University of California, in the Anza-Borrego Desert there have been 10 distinct superflowers in four decades after winters with above-average rainfall. It seems that the effects of this year's wet winter are also benefiting the flora of the region.
The California superflower is a rare sight that is the result of the perfect combination of rainfall and temperature. As long as the weather remains favorable, Southern California residents and visitors can enjoy the explosion of color at any of the following locations:
Parks Where You Can See Superflowers in Southern California
Chino Hills State Park: This park is the closest to Los Angeles, 35 miles from downtown, visitors are encouraged to look for flowers along Bane Road and the nearby Bane Ridge Trail. According to the Parks Department, flowers this year include Canterbury and School Bells, Brook Lupine and California Poppy.
Antelope Valley Poppy Preserve: West of Lancaster, this hill is the home of Poppy Cam. The slopes of the poppy reserve are beginning to show bright pinks of filaree and vibrant yellows of vast expanses of golden fields. More poppies are expected to bloom in the coming weeks. The best places to see them are Antelope Trail North Loop and Kitanemuk Vista Point.
Onyx Ranch State ATV Recreation Area in East Kern County: Located east of Bakersfield, Jawbone Canyon will continue to thrive next month.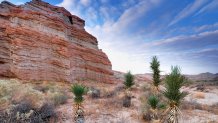 Red Rock Canyon State Park: Also east of Bakersfield, Hagen Canyon, Iron Canyon and the area around that park's visitor center are in bloom for another month. Flowers include desert dandelions, desert or wild parsley and red maids, as well as Joshua trees and flowering bladder pod.
Tule Elk State Nature Reserve: This nature preserve is located southwest of Bakersfield and currently features large patches of goldfield flowers and flowering filaree. Tule elk also grow their antlers here.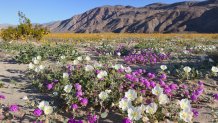 Anza Borrego Desert State Park: Located between San Diego and the Salton Sea, Anza-Borrego is California's largest state park. Visitors can see remnant sand verbena and desert sunflowers along the east side of Henderson Canyon Road at the north end of the park and sand verbena in June.
Colonel Allensworth State Historic Park: Located northwest of Bakersfield, this park's yellow gold fields are in bloom and could last for another month, according to the California Department of Parks.
Para ver otros lugares donde puedes ver las flores silvestres en California visita este artículo que preparamos con una lista de todo el estado dorado. 
In photos: super blooms in California in 2023
Meet Ashley Johnson, the lead reporter for Globe Live Media, specializing in entertainment, lifestyle, and music. As a fitness enthusiast and a profound yoga student, she shares her passion for a healthy lifestyle, which stems from growing up in Beverly Hills, where she frequently interacts with renowned artists.
You can count on Ashley's reports to be authentic, high-quality, and informative when it comes to lifestyle, health, and music. Ashley is also a part-time gamer and will provide coverage for the gaming section of Globe Live Media seldomly.
With Ashley's diverse background and experience, her writing style is engaging, informative, and captivating. Get ready to immerse yourself in her world of entertainment, lifestyle and music!
Queries: ashley.ethp@gmail.com