Binance's native cryptocurrency, the world's largest cryptocurrency broker , has risen more than 40% in the past 24 hours and has surpassed the $ 100 mark for the first time in history. The Binance Coin ( BNB ) is a utility token sharing the profits of broker with the holders of the currency.
After reaching the historical record, Binance's CEO, Changpeng "CZ" Zhao, said that this is just "the beginning" for cryptocurrency.
Binance's cryptocurrency has more than tripled in price since the beginning of the year, when it traded for $ 30 in January. After the asset surpassed the $ 50 mark last week , more buyers became interested in the asset that benefits from the bull market.
The digital currency now trades for $ 105 and follows the rise of Bitcoin, which in turn was driven by news that Tesla bought $ 1.5 billion in digital currency.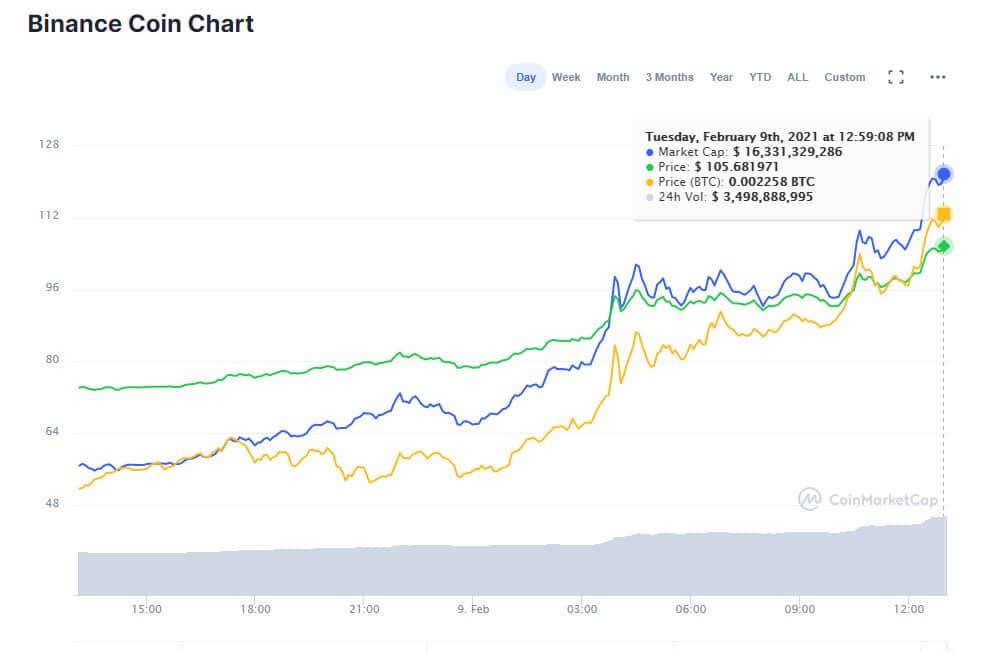 With the rise, BNB became the 7th most valuable cryptocurrency in the world in terms of market capitalization. the asset now has a total value of $ 16 billion, dethroning Litecoin.
Bitcoin remains on the rise and heading for $ 50,000. BNB has shown itself to be strong in correlation with the price of Bitcoin and is benefiting from the good moment the cryptocurrency is going through.
In addition, recently Binance met its schedule and burned off part of its token supply, which affected supply at the very moment when demand was getting stronger.
Another factor that drove the token is that Binance introduced a beta version of Binance Pay , a competitor to PayPal.
BNB's bullish move also coincided with Binance's $ 2.4 million investment in the Polkadot- based contract platform , the Plasm Network.
This marked the first major investment dedicated to exclusive projects at Polkadot. Plasm is a scalable smart contract platform with multiple virtual machines.
Finally, Binance is consolidating itself as a serious competitor for the Ethereum platform, with the CEO constantly promoting the so-called Binance Chain.
The success and failure of the broker's products are reflected in the price of BNB, and for now Binance is innovating and winning fans worldwide.
Samuel Edwards is the name you must have heard many times while reading reports related to Finance, that's what he is good at. From Major Investments to Stock Market Updates, he got 'em all. Be ready to blow your mind by the mind-blowing reports of Finance World from Samuel Edwards.