MIAMI, Florida – The relatives of Cubans David López Alfonso and Ismael Hernández Chirino, who arrived this Saturday morning at an airport in the Florida Keys aboard a motorized hang glider, only ask the American authorities not to deport young pilots.
"Everything they did was crazy, but it went wonderfully well and they are fine," said Yaneisy, the wife of López Alfonso, who only asks "that they not be deported" to the island.
From the island, the family of these Cubans claim to be in shock and extremely concerned after hearing the news of the departure of the two in a "Trike" type ultralight aviation team, registration CU-U-1619 and providing services in the tourism sector where it was used in the air sports modality in the tourist pole of the oriental beaches, in Havana.
"The government is filing a complaint and so is the Aviation Club", explains Yaneisy, López Alfonso's companion, who assures that her husband would go to prison "for life" if he returns to the island and "just for having sought freedom. ".
"Here they were out of work, and that was the only thing they did, they were commercial airline pilots," says David López Alfonso's wife.
For her part, Laura Hernández Chirino, Ismael's sister, says "they made commercial flights for tourism and with Cubans who could afford it", so they were "in a house in Tarará that belonged to the club of aviation, waiting for the service to be able to redo commercial flights".
Hernández's family say they were unaware of his plans, but they are asking that the youngsters not be sent back to Cuba, as they have been considered "abandoned pilots" by the Cuban authorities, who have called the fact of theft and violation of Cuban, as recognized by the Cuban Aviation Club in a statement.
"If they come back to them, the problem they are going to look for has no words, it cannot be compared to anything. The problem they are going to look for is going to be gigantic, they can never be someone 'other in their life,' she worriedly warns Laura Hernández Chirino, Ismael's sister, who says her parents are unable to talk about what happened.
After a flight of just over two hours, the two young men arrived at Key West International Airport where they were detained, according to law enforcement sources, both were handed over to the Border Patrol, but at least one of them is already in a Broward Detention Center.
The Cubans, who had no problems during the flight, arrived in the United States around 10:30 a.m., having left the residential area of ​​Tarará on Cuba's northern coast around 8:05 a.m.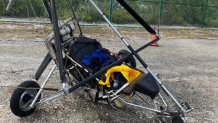 BACKGROUND
In October 2002, a Cuban pilot at the controls of an old Russian-made single-engine Antonov plane landed at the Dade-Collier training and transition airport, located in the middle of the huge Everglades wetland.
The plane that departed from Sancti Spiritus, Cuba, was piloted by Rubén Martinez, 29, who worked for the Cuban Air Service Company (ENSA).
Meet Ashley Johnson, the lead reporter for Globe Live Media, specializing in entertainment, lifestyle, and music. As a fitness enthusiast and a profound yoga student, she shares her passion for a healthy lifestyle, which stems from growing up in Beverly Hills, where she frequently interacts with renowned artists.
You can count on Ashley's reports to be authentic, high-quality, and informative when it comes to lifestyle, health, and music. Ashley is also a part-time gamer and will provide coverage for the gaming section of Globe Live Media seldomly.
With Ashley's diverse background and experience, her writing style is engaging, informative, and captivating. Get ready to immerse yourself in her world of entertainment, lifestyle and music!
Queries: ashley.ethp@gmail.com