Mattel announced the release date of their first doll Barbie con Down syndrome. Created to provide the opportunity for even more boys and girls to see themselves reflected in the toy as well as for it to reflect the world around them, millions of children will be able to get it from the next 1st May.
Barbie doll with Down syndrome aims to inspire all boys and girls to tell and create more stories through play. To ensure the doll accurately represents someone with Down syndrome, Barbie worked with the "National Down Syndrome Society" (NDSS) of the United States in the design of the doll and its accessories.
The NDSS is an association that helps people with Down syndrome and their families in the United States by providing resources, advocating for policy change, and helping local communities. NDSS guidance and expertise was essential in the design process from start to finish, including the doll's sculpting, clothing, accessories and packaging. Thanks to their efforts, Barbie was able to honor people with Down syndrome through a doll that will connect directly with the community.
Rendered image of Barbie dolls / Mattel / Marco Agency
female ambassadors
To celebrate the doll's launch and help foster inclusion, visibility and acceptance for people with Down syndrome, European Ambassadors joined Barbie in celebrating this important moment for the community. Among them are Mariana de Ugarte, influencer, writer and mother of Mariana and Jaime, two children with Down syndrome. Mariana is an advocate and promoter of inclusion for people with Down syndrome, who uses her platform to give voice and normalize this group as well as raise awareness in society. She seeks to show what life looks like for a person with Down syndrome and within their family, to promote and fight for the inclusion of these people, through support actions.
"It seems to me that since Barbie is such an iconic doll and has been present in virtually every home for so many years where there is a boy or girl of playing age, it seems wonderful to me that this line has was created which what it does is foster what we seek, which is the acceptance of diversity, respect and the example that there is room for everyone in society. It is a pride to be an ambassador of this line. The truth is that to think that Barbie has decided to represent the chromosomal disease that my children suffer from seems to me something wonderful and, above all, it will really help a lot so that the children understand the importance of respect and inclusion" explained Mariana
Other ambassadors are Ellie Goldstein, model from the UK; Éléonore Laloux 2, municipal councilor and author from France; and Enya, model and influencer from the Netherlands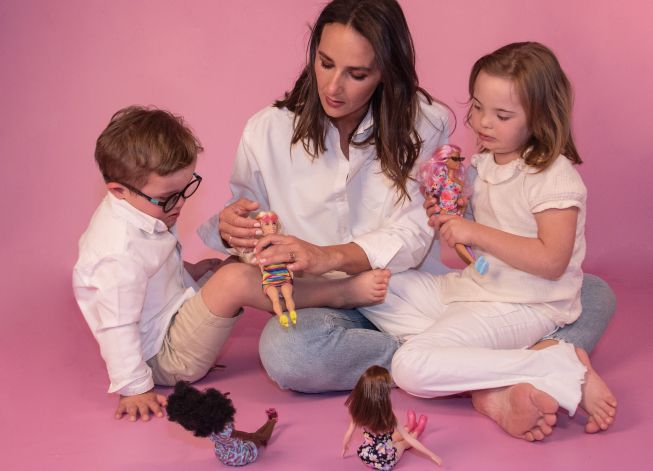 Mariana Ugarte and her children / Mattel / Marco Agency
How is the new Barbie with Down syndrome?
This doll represents a new face and body contour more illustrative of women with Down syndrome, with a shorter body and longer torso. The new facial modeling features a more rounded shape, smaller ears and a flat nose bridge, while the eyes are slightly slanted in an almond shape. The doll's palms even have a single line, a feature often associated with people with Down syndrome..
The doll's puff sleeve dress features butterflies and the colors yellow and blue, which are symbols and colors associated with Down syndrome awareness. The doll's pink collar with three up arrows represents the three copies of chromosome 21, which is the genetic material that causes the characteristics associated with Down syndrome. The three arrows are a symbol that unites the Down syndrome community and are meant to represent those who have someone with Down syndrome in their life.
Barbie Fashionista doll with Down syndrome also wears pink orthopedic anklets to match with her outfit and sneakers which have a zipper detail. Some children with Down Syndrome wear orthotics to support their feet and ankles, and the NDSS provided the designers with a box of orthotics to serve as real-life inspiration for what this Barbie Fashionista is wearing, to match her outfit and outfits. bright colors of its design.
Barbie, a renewed doll
Children's early experiences help shape their thoughts and perceptions, and Barbie can play an important role in this process. When a boy or girl plays with Barbie, they realize their dreams and imagine they can be anything.
Doll play serves an incredible purpose during key developmental milestones as it can help set children on the path to success by allowing them to develop empathy, developing the social skills needed to excel when imagining their future on an equal footing. Barbie doll with Down syndrome helps more boys and girls see themselves in Barbie and the world around them, which can foster a sense of inclusion.
Barbie is the most inclusive line of dolls on the market, with over 175 looks that offer a variety of eye colors, hair colors and textures, body types, disabilities and clothing. Barbie features dolls with vitiligo, dolls with a wheelchair or prosthesis, a doll with hearing aids, and a doll without hair. This year, Barbie continues to represent global belonging and inclusion with the full line of Fashionistas 2023, which also includes new dolls with different body types, such as a new Fashionista doll with suspenders and a Ken Fashionista doll with one leg. prosthetic.
Meet Ashley Johnson, the lead reporter for Globe Live Media, specializing in entertainment, lifestyle, and music. As a fitness enthusiast and a profound yoga student, she shares her passion for a healthy lifestyle, which stems from growing up in Beverly Hills, where she frequently interacts with renowned artists.
You can count on Ashley's reports to be authentic, high-quality, and informative when it comes to lifestyle, health, and music. Ashley is also a part-time gamer and will provide coverage for the gaming section of Globe Live Media seldomly.
With Ashley's diverse background and experience, her writing style is engaging, informative, and captivating. Get ready to immerse yourself in her world of entertainment, lifestyle and music!
Queries: ashley.ethp@gmail.com