What's next for Dying Light 2 after release? We provide you with an overview of the planned DLCs, addons and updates.
The developer studio Techland has big plans for Dying Light 2: By the year 2027, they should add new DLCs, addons, updates and expansions for the zombie open world.
It remains to be seen, of course, whether the calculation will work out. In the following article you will get an overview of the previously known roadmap and what exactly you can expect in terms of new content.
We keep this overview up to date. You will also find new information about release dates or details about the content here in the future.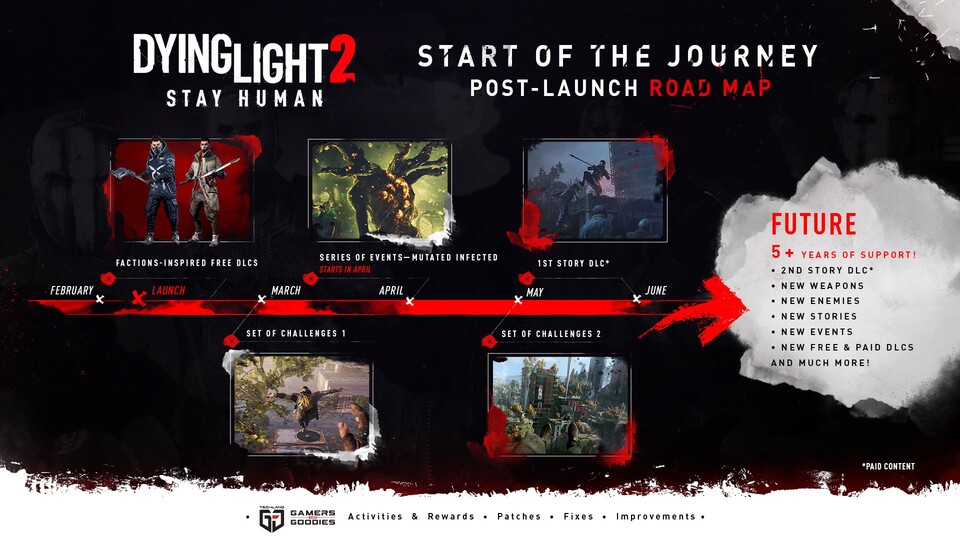 What DLCs, addons and updates deliver
The timetable until June 2022
February 4, 2022: Release von Dying Light 2: Stay Human
Incidentally, the USK-18 title appears cut in Germany. More information about the German version and all differences to the original version can be found in our overview
February 2022: Free DLC
Just a few weeks after the release, the first free DLCs inspired by the game's two factions should appear: Peacekeepers and Survivors. The Authority Pack will be available the week of February 14th and the Samurai DLC will be available on February 21st.
March 2022: Challenges
A first set with new challenges has been announced for the following month. Similar to the first part, these are probably additional activities that you can do in the open world to unlock rewards and achievements.
April 2022: Events
The first series of events »Mutated Infected« starts in April. Already in the first part, so-called community events took place at regular intervals, where new weapons or equipment could be earned as a reward.
May 2022: Challenges
Those hoping for even more open world activity won't have to wait long. Because the second set with new challenges will be released in May.
June 2022: Story-DLC
The first major story DLC will be released this summer. In contrast to the other content, this one is subject to a fee. However, those who opt for the Deluxe Edition of Dying Light 2 will also receive this story DLC for free. The Ultimate Edition also includes the second story DLC, for which there is no release date yet.
What's next for Dying Light 2 after that?
Along with the post-launch roadmap, the developers are also giving a preview of upcoming content to follow over the next five years:
Second paid story DLC
New Weapons
New opponents
new stories
New events
New free and paid DLCs
Crossplay for the multiplayer mode is not yet available at release. However, the developers already have this point on the screen and want to concentrate on it after the launch as lead designer Tymon Smektala announced in a tweet.
What else you should know about Dying Light 2
You can not only read our detailed GameStar test on Dying Light 2, but of course we have a whole range of useful guides and service articles for you.
We've also already ventured a look into the future and tell you what seven things we want from future DLCs and updates. In our Dying Light 2 tuning guide, you'll also find out how best to increase the FPS without affecting the graphics.
What are your hopes for future Dying Light 2 DLC and updates? What are your expectations of the roadmap to 2027? Let us know in the comments!
Brent Dubin, known as the Gaming Giant among Globe Live Media staff, is the chief Gaming Reporter for Globe Live Media. Having attended all the major events of Gaming around the World, he is sure to give you exactly the update related to gaming World you are looking for.