We are Tuki! The reason? That same Friday, February 24, Sofía Martín has released a new single. After surprising us with We are going to dance there toxicica, the woman from Alicante went a step further and opted for a new, more danceable song.
It is Desire, a subject that surprised his followers and followers. And it is that the young woman marked a Taylor Swift by deleting all her previous Instagram posts without warning. But apparently he had a good reason: present a new single.
A month after participating in Benidorm Fest 2023 with TukI, Sofía Martín wanted to take advantage of the moment to launch a pop song with joyful and dreamy rhythms. Of course, for the occasion, Sofía transports us to the world of the night, where she has a crush on a person.
To talk about her new song, her future musical projects and her time at Benidorm Fest, Sofía grants us a few minutes of interview.
LOS40: And Sofia? What a hectic weeks. How are you feeling?
Sofia Martin: We are here. I am super happy and happy. Work on what's to come. With emphasis on Ganas.
LOS40: Have you had the flu?
Sofia Martin: Dude, you had saved me until today. I woke up with a runny nose. But no, I'm not going to say it's the flu. But I think I'll pass it now.
LOS40: In your new song, Ganas, you show your most romantic side. Have you wanted to show this part of you in a song?
Sofia Martin: This is the first time that I publish a song that is a little more romantic. I always like to create something danceable. Now is the best time to get Ganas. Because I wanted to. After Benidorm Fest, I see it as a good time to open a new scene. Also to open up more personally and share more romantic stories.
Sophie Martin / Photo courtesy of Sony Music
LOS40: Has the song been written for a long time?
Sofía Martín: I composed it before Benidorm Fest. I was in Miami for 13 hours and that gave me time for a session with Luis Salazar. We wrote the song. The model was there and when I left Benidorm Fest we finished it. I was also inspired by the things that had happened to me during those three months. We changed the production and finished it. It was a super quick thing. The work of the whole team was very intense.
LOS40: And the lyrics are inspired by a real night?
Sofia Martin: (Laughs) Many things inspire me. I also wanted to work more time in Miami. It can also be related to a person and a true story.
LOS40: Are you returning to Miami to continue working on your music?
Sofia Martin: At one point, yes, but now I'm moving to Madrid. I'll start releasing the songs I have and then I'll come back.
LOS40: After living a few years in Berlin, you moved to Madrid, is this a way to start a musical era?
Sofia Martin: Yes, I manage everything from here: from events to concerts. It's much easier from Madrid.
LOS40: What saddens you the most about your departure from Berlin?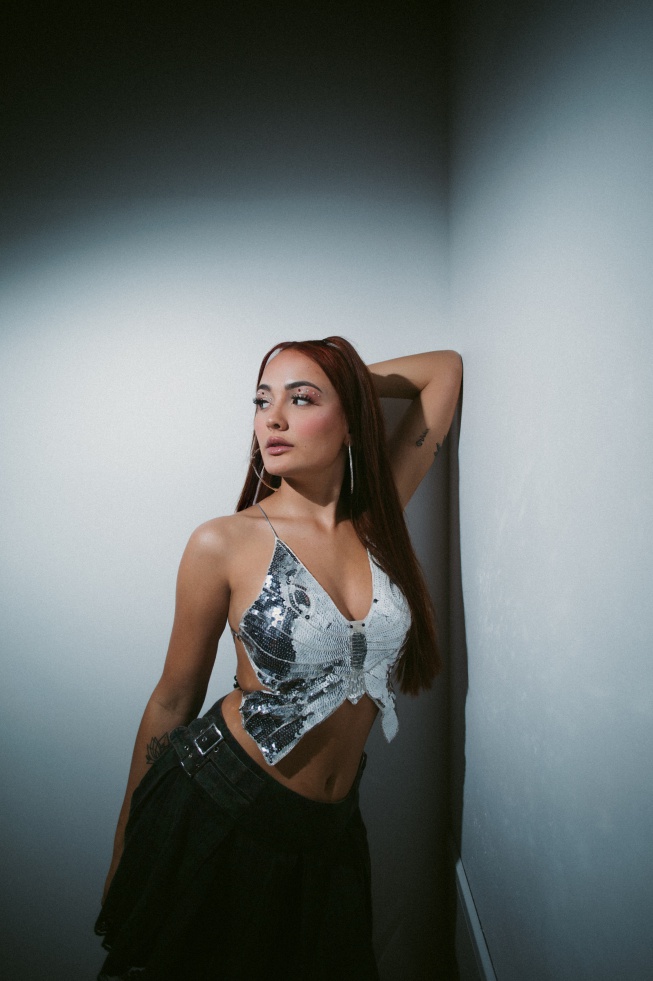 Sophie Martin / Photo courtesy of Sony Music
Sofia: Know? I haven't processed it yet. I have to go back to Berlin to work because my producer is there. I'll let you know when it happens, but I have very good friends, although it doesn't matter because I'm going to go there a lot. Maybe I will miss the studio I go to every day. That you take affection for the team and everything.
LOS40: Have you wiped the slate clean on Instagram, a way of saying "little things happen"?
Sofia Martin: I feel like a cycle has closed and a new one is opening. I wanted to reflect it on my Instagram. I wanted attention to be on my new single Ganas.
LOS40: The last time you came to LOS40 studios, you told us that you had worked with Vicco in the studio, how is this song going?
Sofia Martin: We speak. We have to finish the song. As we both work, it is to reconcile the moments. But yes, we both want to collaborate and do something together at the right time. A song came out that we wrote together for a Spanish artist. Vicco and me as composers. It was Rorro's loop. It was during a session we had last year. So we had already worked together as composers.
Vicco and I want to collaborate and do something together
LOS40: Looking back on your time at Benidorm Fest, would you change anything?
Sofia Martin: It was great. I learned a lot personally, but I wouldn't change a thing. I don't like to think like that because I can't do anything anymore. Looking ahead, I know I have to work on some mistakes. It helped me to know myself better as an artist.
LOS40: And would you repeat?
Sofia Martin: I should think about it in a year. Right now, I'm focusing on songwriting. This will be seen later.
LOS40: Thanks to Benidorm Fest 2023, did an artist contact you to collaborate?
Sofia Martin: Yes, but I can't say anything. I do not want to say anything. (Laughs)
LOS40: One of your songs became the official closing party of Benidorm Fest, We are going to dance, how did it come to this? Was it something we were talking about?
Sofia Martin: If you asked all the time. It was great. It all started with Tuki. At parties, they asked me for the songs. These moments reminded me why I make music: it's to create moments and have fun with people. I want to give them a cool experience and inspire people.
LOS40: After discussing the subject with Abraham Mateo, I saw that you had a very good atmosphere with Lérica. Are you working on something?
Sofia Martin: Before collaborating with Abraham, I recorded two songs with Lérica that never saw the light of day. But they were the first to believe in me.
LOS40: And why didn't they see the light?
Sofia Martin: Well, I don't know, but those are two great songs, I'm not going to lie to you. Let's see if they can be removed. I love them and hope to work with them again in the future.
I recorded two songs with Lérica that never saw the light of day
LOS40: Have you been able to talk to Blanca Paloma these days?
Sofia Martin: No, I couldn't talk to him. I saw her the day after the final, but I didn't see her.
LOS40: Finally, what will we find from Sofia in 2023?
Sofia Martin: Well, a lot of very good and danceable songs. With a Sofia on stage giving concerts. And a few other collaborations.
Ganas was released this Friday, February 24 on all platforms.
Meet Ashley Johnson, the lead reporter for Globe Live Media, specializing in entertainment, lifestyle, and music. As a fitness enthusiast and a profound yoga student, she shares her passion for a healthy lifestyle, which stems from growing up in Beverly Hills, where she frequently interacts with renowned artists.
You can count on Ashley's reports to be authentic, high-quality, and informative when it comes to lifestyle, health, and music. Ashley is also a part-time gamer and will provide coverage for the gaming section of Globe Live Media seldomly.
With Ashley's diverse background and experience, her writing style is engaging, informative, and captivating. Get ready to immerse yourself in her world of entertainment, lifestyle and music!
Queries: ashley.ethp@gmail.com