Just as President Joe Biden made the ban on oil and gas imports from Russia official this Tuesday as another economic sanction for having invaded Ukraine , a few minutes later the Dominican Juan Ramírez, who manages a gas station on 155th Street in the Upper Manhattan, received an email indicating a new adjustment of 3 cents in the price per gallon.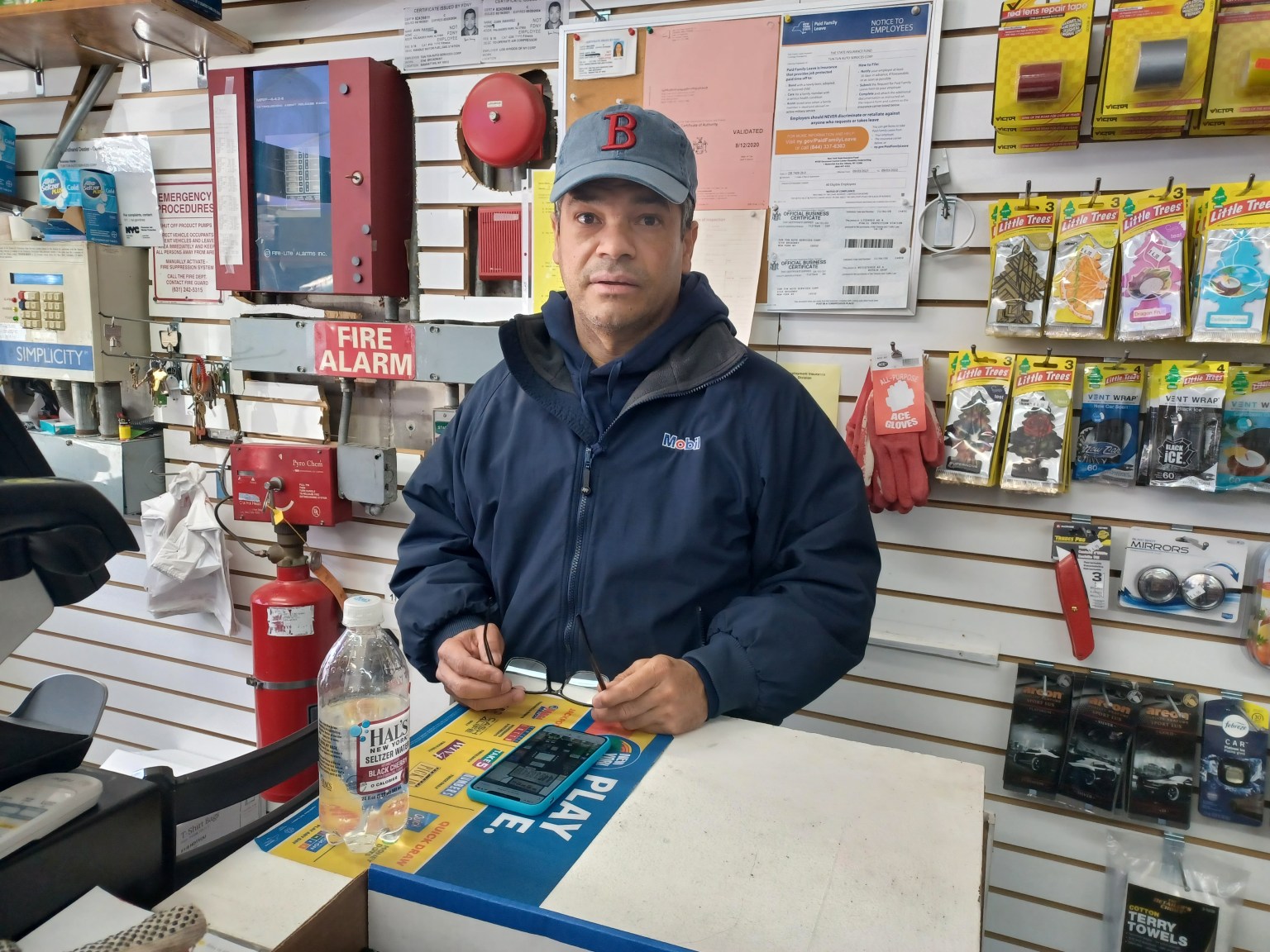 Coincidence or not, the immigrant with more than 20 years in the fuel distribution industry in New York City , assures that since the war broke out in Eastern Europe, the frequency with which he must make these changes during the same day is much older.
"For a couple of weeks now, up to three times a day, information is received from the distributor. It seems to me that regardless of the war, there is some speculation and nervousness in the market. Before it was the pandemic, the problems in the supply chain. Now it's Russia!" , opined the merchant.
Juan's interpretation comes as the average price of regular unleaded gasoline soared this Tuesday to an average of $4.36 a gallon in New York City. Although prices varied by borough, with $4.64 in Manhattan the highest, $4.40 in Queens, $4.38 in the Bronx, and $4.36 in Brooklyn and Staten Island. The rise in the last 4 days has been at least 19 cents. 
Exactly one year ago, drivers in the Big Apple were paying $2.87 per gallon. Doing some math that means a 15 gallon tank needed a little over $42 to be 'full' . The difference now is remarkable, because the same driver would need to shell out more than $61 to fill his tank at today's price.
"There are gas stations where they even put them at up to $5 and $6 per gallon. It all depends. But everything indicates that this will continue to fire. And the gasoline goes up and in chain everything goes up, like food", Juan considered.
Indeed, President Biden in his speech this Tuesday was emphatic about the speculative component that could continue to hit families in the country: "Russia's aggression is costing us all. And this is not the time to speculate or raise prices. I want to be clear about what we will not tolerate. This is a time when we have to do our part."
A war punishing New Yorkers
And if it is about blows to the pocket, Stefanía López , who lives in Harlem, was surprised when she went to get fuel, because compared to last Thursday, the price had already increased from $3.59 to $4.35 per gallon, in the same station.
"I who work in the food distribution area and depend on a vehicle, this is already beginning to have weight. Unfortunately it is not difficult to calculate that everything will continue to rise, the operating costs unfortunately end up punishing everyone" , he stressed.
For the first time since the summer of 2014, the average price of a gallon of gasoline in New York City exceeds $4, and everything indicates that it is at a point where the escalation will be greater.
The rise in fuel prices in the Big Apple reflects what is happening across the country, as Russia's occupation of Ukraine pushed world oil prices to $111 a barrel. 
In this direction, everything indicates that this new world scenario will have an even greater impact on the inflationary index that had already been 'bombarding' the pockets of the residents of New York City, where the 'missiles' of increases in basic, real estate income, electricity and all services in general, have completely pulverized the wages of the working class.
In this sense, the Mexican Lucy Cabello, a restaurant worker in Upper Manhattan, assures that "many mistakenly think that because they do not have a car and they ride the Subway this does not affect them."
"Each week when we receive basic products in the store, they are marked up with $1 or $2 more , especially oils and vegetables, they come with new prices. And the distributor in the last week says that all his costs increased because of the gasoline craze," 
Prosecutor's Office Calls on New Yorkers to Report Abuses
In response to the president's announcement to ban imports of Russian oil, natural gas and coal, State Attorney General Letitia James warned oil companies and service stations that price gouging is illegal and reminded New Yorkers that be alert.
"Russia is one of the world's largest energy producers and as a result of these sanctions, New Yorkers need to prepare for continued market disruptions, potentially inflated prices at gas stations, and make sure they know their rights," James stressed.
New York laws prohibit sellers of fuel and other vital goods from charging excessive prices for market failures , including disruptions caused by global conflicts.
Therefore, New York consumers who experience drastic increases in the price of gasoline are urged to report these incidents to the Office of the Attorney General (OAG).
"We remind businesses that price gouging is illegal and make sure consumers take precautions to protect themselves and their wallets," he said.
Climbing comes from 2021
Not since 1982, that's 39 years, have the costs of food, gas, rent and other utilities placed so much financial strain on households across the country due to supply chain issues and workforce generated by the pandemic.
At the end of 2021, the accumulated inflation of basic products and services was 7% throughout the country, but this incidence could have been stronger in the Big Apple, where the only price that has remained frozen has been the of subway rides. 
So that consumers have a clearer idea of ​​what happened with the inflationary escalation in the last fourteen months, in 2019 official inflation amounted to 1.4% and in 2020 just 0.8%. That means that the rise in prices, in some products, could have jumped three or even four times.
At the beginning of the year, when the possibility of war was not even on the scene, economic experts and the federal government itself predicted "some difficult months" ahead with inflation.
Gasoline prices will accelerate inflation
Now, all the forecasts are directed at a new distressing variable, which in the voice of President Biden himself will put a powerful accelerator on prices when the blockade of oil imports from Russia is announced: "Today's decision has a cost here in House. Putin's war is already hitting American families at the gas pump. Since Putin began his military advance in Ukraine, the price of gasoline in the United States has risen 75 cents. With this action it will increase more".
Overall, gasoline prices were already hitting highs from January and February, before the invasion, as oil suppliers struggled to keep up with surging demand from consumers and businesses recovering from disruptions caused by the invasion. due to the high wave of the omicron variant of COVID-19.
On the streets of the Big Apple, particularly in neighborhoods where the working class lives, the pressure of high costs that began last year continues to wreak havoc and worries about an immediate future that looks more complicated.
For example, the housewife Josefina Vera was walking this Tuesday through several supermarkets on Broadway Avenue, between 150 and 160 streets, comparing prices.
"Look at the price of oranges. In the same street they can be in a store for $1 and in another $2. Now one has to walk a little further. Especially this year everything has exploded in an unusual way. Now with the war everything will be incomparable. Not to mention the meat. It's horrible!" she reacted.
Meanwhile, the Dominican José Santos was looking for vegetables in his supermarket in Upper Manhattan to make a sancocho (traditional Dominican soup) and was disconcerted when he saw the increase in vegetables such as white yams.
"The prices were already going up without pause. Now with the effects of the war on gasoline it will be worse . Do you know what it means to have to pay $5 dollars for two small avocados? And that's the way it is," she concluded.
How to report abuses in gasoline prices?
When reporting price gouging to the New York State Attorney's Office (OAG), consumers should make a report online: formsnym.ag.ny.gov
Detail the specific increased prices, the dates and places where they saw the increased prices, and the types of fuel being sold.

Provide copies of your sales receipts and photos of advertised prices, if available.

It is recommended to only buy the amount of fuel you need and not stock up for fear of possible future shortages.
Unchecked increases in NYC:
$4.64

 was the average price of a gallon of regular gasoline at Manhattan service stations this Tuesday, according to the weights of the 

AAA Gas Price platform.

$4.38

 for the same fuel product in the Bronx, $4.38, in Queens it rose to $4.40 and in Brooklyn and Staten Island to $4.36.

10%

 has been the rate of increase in gasoline since last Friday.

2008 was the last time

 New York consumers faced a period of sharp price increases to fill their tanks, when the world economy took a nosedive during the 2008 financial crisis, when the price rose to $5.37.

49.6%

 was the average rise in gasoline prices across the country last year.

6.3%

 was the increase in electricity and 24.1% in gas.

6.3% increase in the products of the basic food basket

 , in the national average, although it is considered that in NY it was much higher.
Ben Oakley is the guy you can really trust when it comes to Mainstream News. Whether it is something happening at the Wall Street of New York City or inside the White House in Washington, D.C., no one can cover mainstream news like Ben. Get a daily dose of Trustworthy News by Ben Oakley, only at Globe Live Media.