"He's a very calm man. I've never seen him drunk," Bono said when he unexpectedly went to court to defend his friend. I had known Peter Buck since 1985, when U2 and REM played together in Milton Keynes. Since then, he had seen the guitarist every year. But his colleague had messed up a plane and was facing charges ranging from assaulting the crew, disobeying the captain or being drunk during the flight. And 'only' because it had been necessary 15 glasses of red wine and a sleeping pill.
fly to london
On April 29, 2001, the so-called "South Africa Freedom Day Concert" was held in Trafalgar Square, commemorating the seventh anniversary of free elections in South Africa. Nelson Mandela and Tony Blair would be present. Among the groups that played at the event, in addition to The Corrs, Mel B, Billy Ocean or Dave Stewart, appeared as REM cartel leader It would be their first performance in London in almost two years. Additionally, the Georgian band were set to release their twelfth album, Reveal, and would use the trip to promote the new songs.
REM, in 2001. / Dave Benet/Getty Images
A few days before the concert, on April 21, guitarist Peter Buck boarded a British Airways transatlantic flight from Seattle to London. He took his place in first class. Nearly 10 hours of flight awaited him. The other members of the group were traveling on another plane.
15 glasses of red wine… and chaos
Already in the first hours after take-off, Buck drank 15 glasses of red wine. When he asked for number 16, chaos ensued. The team leader, Mario Agius, refused to serve him more alcohol. There was a moment when Buck held up a pot of yogurt in one hand and a spoon in the other. "I thought he was going to throw it at me so I grabbed his wrist," Agius said. " And at that moment the yogurt glass seemed to explode and covered me from head to toe… Flight attendant Holly Ward was also splashed."
It didn't stop there. It was certainly terrifying for the crew and passengers when Peter struggled with another assistant flight approaching a boarding gate and announcing that "he was going home"… were 10,000 meters above the Atlantic. The captain, Tom Payne, admonished him and handed him the 'yellow card', the final warning for problem passengers. But the guitarist ripped the card in the captain's face: "You're just a fucking captain and I'm REM."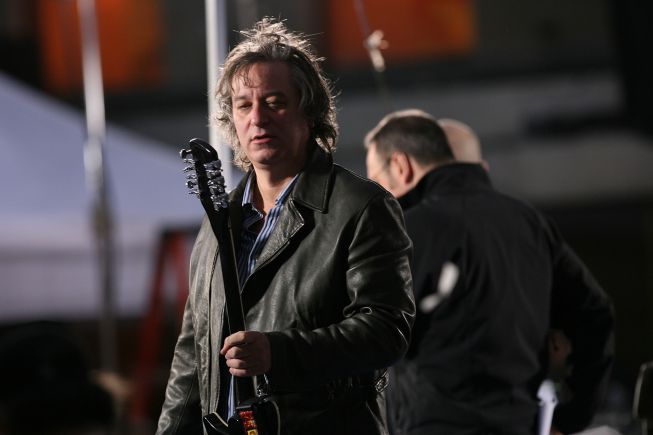 Peter Buck (REM), in 2008. / Al Pereira/WireImage
The food and drink cart also suffered from Buck's drunkenness. after mistaking it for a CD player and try inserting a disc. He then picked it up and threw it in the air…resulting in the destruction of glasses and plates. He also attempted to sit next to a female passenger claiming she was his wife. And, according to a witness, he wanted to put a knife up his sleeve while helping clean up the mess. Eventually, he fell asleep in his seat two hours before the end of the flight.
Scotland Yard, waiting for you
When the plane landed at Heathrow Airport, Scotland Yard police were waiting for him. Buck was arrested at 11 a.m. and released on bail at 9 p.m. The charges were piling up: assault on two crew members, disobedience to the captain, drunkenness on board, threatening and abusive remarks and behavior, damage to household objects… He faces a maximum of two years in prison and a £5,000 fine.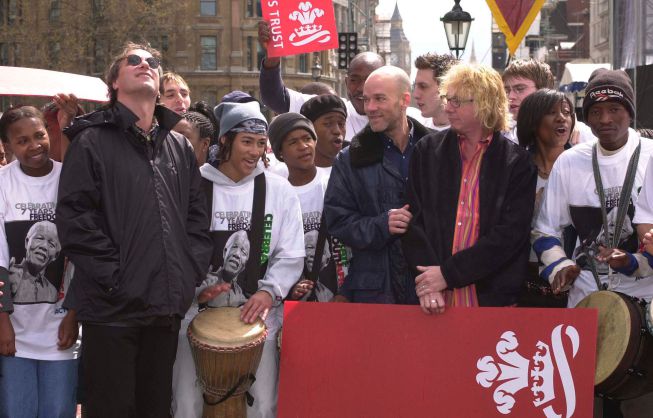 REM, and 2001. / Fiona Hanson – PA Images/PA Images via Getty Images
Peter attended his date in Trafalgar Square, along with colleagues Michael Stipe and Mike Mills, and celebrated democracy in South Africa in front of more than 30,000 people.
"I've never seen him drunk"
A year later, and for several days, Peter Buck took the accused's chair at Isleworth Magistrate Court, just outside London. On Monday, March 25, 2002, Bono appeared there. Unexpectedly. He wanted to support his American friend with his testimony. He arrived greeting the magistrate with a jovial "hello" and said he had known Buck since 1985, when REM and U2 played the National Bowl in Milton Keynes. Since then, he had seen the guitarist every year. He claimed that the two gangs had socialized frequently, when their tour dates coincided, and had drunk red wine on at least 10 occasions.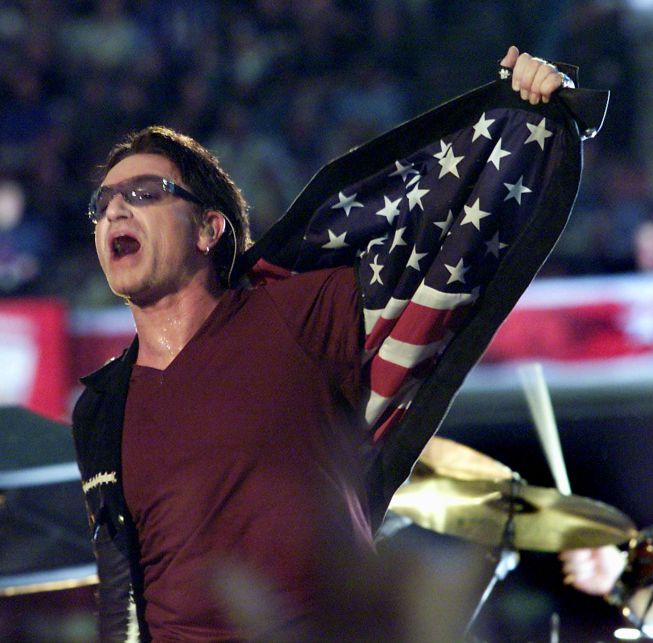 Bono (U2), during the 2002 Super Bowl. / JEFF HAYNES/AFP via Getty Images
In his five minutes of testimony, he pointed out: "I have never, ever seen him drunk. I have never, absolutely never seen him using drugs". He also said he couldn't believe his eyes when he read about the incident in the press.. "It's ridiculous. I don't know what could have happened to him. It really is a strange and unusual occurrence.. He is a very calm man. It's hard to get him on tour because he loves his kids. Once I had to twist his arm to hold him in a boxing match because I thought it was too aggressive a sport."
The sleeping pill
Two days later, Michael Stipe, Mike Mills, or Buck's wife took the defense witness stand. Stipe described him as a "southern gentleman" and said that she considered him the older brother she never had. For his part, the capricious guitarist blame the sleeping pill -—Zolpidem— which he had ingested and which caused him to react violently when he drank alcohol. He also said he couldn't remember anything since closing his eyes in his seat on the plane and waking up at Heathrow police station. I thought he had had a heart attack.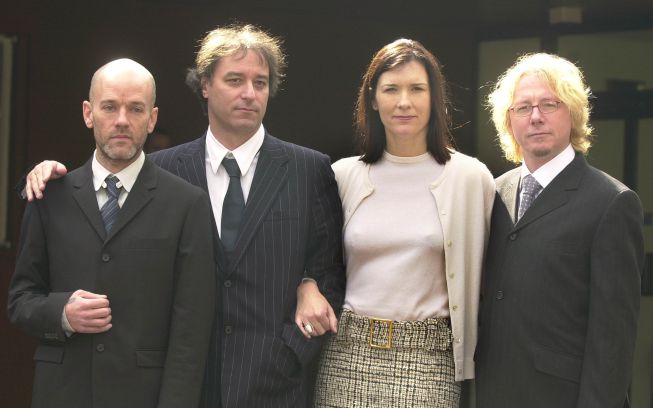 Peter Buck and Michael Stipe, tried in 2002. / Sion Touhig/Getty Images
David Bate, the prosecutor, said that the story of the sleeping pill was "a shameless lie" to protect Buck's billionaire career. But the jury – which had sat opposite Stipe, Ms Buck and Mike Mills in the final week of the trial – clearly disagreed.
"I'm sorry for the whole situation"
After more than five hours of deliberation, the jury acquitted Peter Buck of all charges. Michael Stipe and his wife, Stephanie, broke down in tears.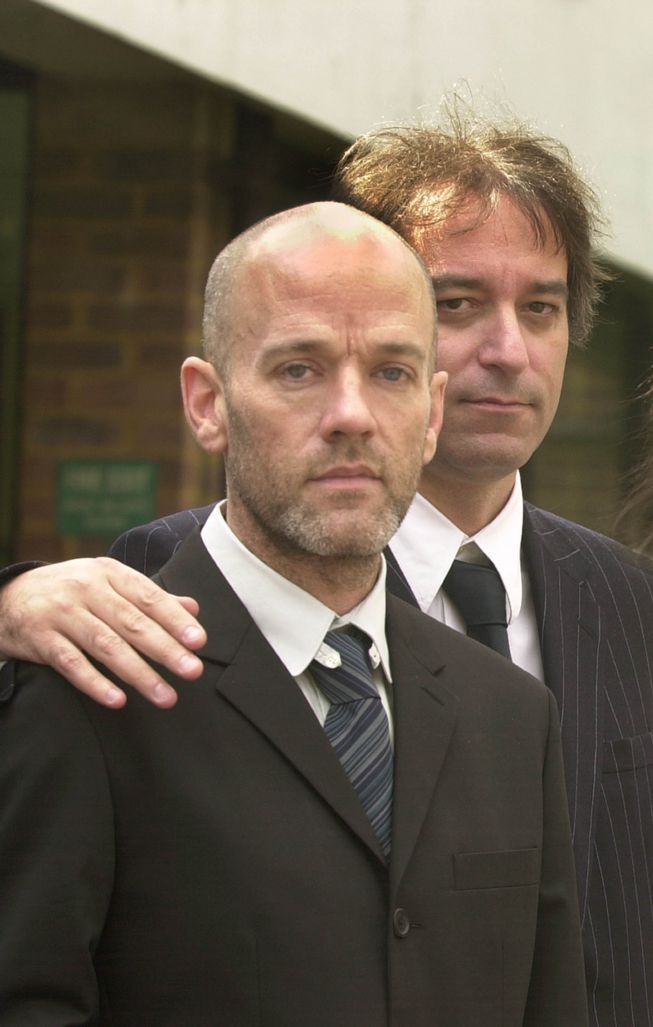 Peter Buck and Michael Stipe, tried in 2002. / Sion Touhig/Getty Images
After the verdict, Buck shook hands with the prosecution attorney and said: "I'm sorry for the whole situation". He left the yard with a broad smile, with an arm around Stipe, and thanked the court and the jury. "Obviously I'm relieved to end up here youI can't wait to turn my attention to my family, my band and my music."said.
Meet Ashley Johnson, the lead reporter for Globe Live Media, specializing in entertainment, lifestyle, and music. As a fitness enthusiast and a profound yoga student, she shares her passion for a healthy lifestyle, which stems from growing up in Beverly Hills, where she frequently interacts with renowned artists.
You can count on Ashley's reports to be authentic, high-quality, and informative when it comes to lifestyle, health, and music. Ashley is also a part-time gamer and will provide coverage for the gaming section of Globe Live Media seldomly.
With Ashley's diverse background and experience, her writing style is engaging, informative, and captivating. Get ready to immerse yourself in her world of entertainment, lifestyle and music!
Queries: ashley.ethp@gmail.com