The first day of BBB 21 has arrived bringing news. In addition to six participants immunized by popular vote, a test to guarantee the same benefit to a seventh brother was started on Monday night (25).

Presenter Tiago Leifert asked the participants to form pairs, and Karol Conká soon joined with Acrebiano, since she was the only one, according to her, who got her name right. João and Thais also met; Pocah and Kerline; Camilla de Lucas and Carla Diaz; Nego Di e Lucas; Caio and Rodolffo.
Each participant must wear a white or red vest. On the lawn, there are two bathtubs with cubes of various products, a big screen and a place to deliver the cubes. The pairs must balance on a small circular base. On the screen, a product appears, a vest color and the time to complete the delivery. The rules state that those who do not complete the task on time, who leave the base ahead of time or who make a mistake are eliminated.
The first elimination occurred at 1:25 am on Tuesday (26). The duo Caio and Rodolffo left because the countryman was unable to locate the indicated product. Then, at 2:40 am, it was Carla Diaz and Camilla de Lucas' turn to leave the competition. With little time difference, between 3h and 3h35min, the pairs left Karol Conká and Arcrebiano and Thaís and João Luiz.
See who has already been eliminated:
Caio and Rodolffo, at 1h25min;
Carla Diaz and Camilla de Lucas, at 2:40 am;
Karol Koncá and Arcrebiano, at 3:30 am;
Thaís and João Luiz, at 3:35 am;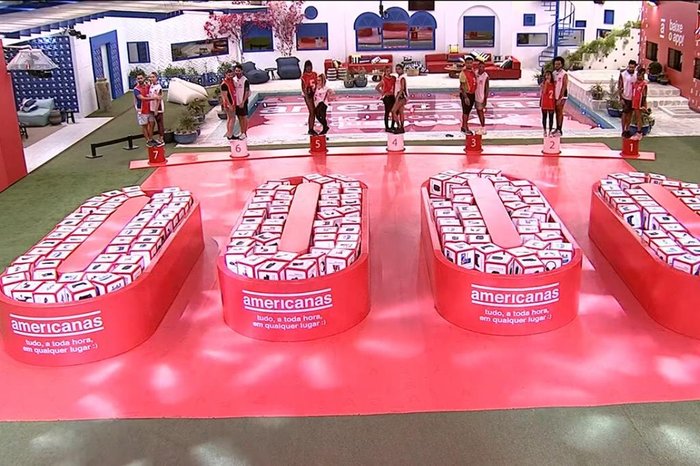 How was the day
Around 12:00, the participants started to enter the house. The first was Gilberto, who soon went to check the rooms. Secondly, Karol Conká arrived emotionally, and asked Gilberto to sambar together, in celebration. Acrebiano followed, and the three went to check the rooms and decided where they would stay.
As he went through the door and saw Karol Conká, Mc Pocah began to shout in celebration, and even sat on the floor, shivering. Then came Caio, Carla Diaz, Kerlinne and Lucas Penteado. Thais came in disbelief, but as soon as she announced that today was her birthday, she received a round of congratulations from all the brothers who were at the place. Rodolffo, João, Camilla de Lucas, Sarah and Nego Di make up the rest of the contestants who are in the program.
In an informal announcement, Leifert also explained to viewers that Bigfone will be playing on Saturday (29). Without elaborating, he said that the functionality will undergo some changes.
– On Saturday Bigfone will play. Bigfone or Bigfones? – said.
Detached house
Six participants will stay for a few days in a separate home. Chosen by the public, they will not go to the spotlight this week and must decide, together, who will face the first wall.
Juliette was the first to enter, and was even a little startled when Fiuk passed through the door. The two began to question whether they shouldn't have entered a space with a lawn and the musician even said that he was thinking about using the pool, which is not available in this space. Lumena also did not understand what was happening, but soon left the confusion aside when he saw the singer Projota.
– I do not believe! She shouted, disconcerted.
Then Viih Tube and Arthur entered the house. Soon, a climate of complicity was established among the participants: Fiuk has already offered to cook. Projota explained that it was "too boring" to eat, but ended up reaching an agreement. At another time, everyone started to question themselves about their marital status and talked about Flecha, a dating app that will be available in this edition. The functionality will allow one participant to like the other and, if it is reciprocal, it will be a match.
Around 6:15 pm, Projota competitors began to create theories as to why they were separated from the other brothers. Without knowing it, he got it right: he said that, who knows, the public had already decided which ones were their favorites, and they were immunized. However, nobody believed in this possibility at first.
– I have to believe this, you believe what you want! – he said, jokingly.
But as soon as Leifert appeared on television, he came asking why the brothers thought they were there.
– You did well in the kicks! You are immune in the first week – he announced.
 The presenter gave no further details on how long the participants will be apart. And closing the matter, he said that they "already knew what they needed to know". Upon seeing the TV off, the brothers soon began to celebrate.