Sergio Kun Agüero (33 years old) is close and charismatic. He has more than 3.5 million followers in Twitch with whom he likes to talk and it is fun. But in conversation he has his arms crossed.
Soccer is his job and consoles, his hobby. He relaxes when he talks about his childhood, when he remembers the neighborhood of Los Eucaliptus, a town in Quilmes, south of Buenos Aires.
Then he becomes passionate. He seeks to explain himself and no longer cares about the clock. Champion of America, top scorer in the history of Manchester City, Agüero landed in a turbulent summer at Barcelona and is now about to make his debut after recovering from an injury to his right calf. This Wednesday he already played a friendly.
Question. How is the interaction with the public on Twitch and on a soccer field?
Answer. Totally different. In the virtual world I try to imagine what the people on the other side think. I try to find anecdotes and tell them things that happened to me that might be interesting to them. Also, the interaction is direct. They write to me in the chat. And when they see me play [a videojuegos], They laugh. They seem to like it to be bad.
P. On the football field, it sure isn't bad.
R. No, there I defend myself to the death. On the court, people come to see what I did all my life. I don't speak, I play.
P. Are you comfortable exposing yourself?
R. It has nothing to do with what you feel when you do a streaming regarding what happens to you in the media because you have a certain partner. That I do try to avoid. In that sense, I am not interested in exposing myself. But it is also clear to me that I am a public person.
P. Didn't you have it easy when your partner was Maradona's daughter?
R. If I wanted to avoid exposing myself, that was the opposite. I got used.
P. Did you have a bad time?
R. No. She is Diego's daughter and that had a certain repercussion. What Diego generated was immense.
P. How did you experience Maradona's death?
R. Bad very bad. How could I live it? He had a Champions League game that day. When I found out, I thought it was a lie, like so many other times. But since I saw that more and more people were saying it, I asked Benjamin's mother directly [el hijo que tiene con Gianinna Maradona]. I even remember what I asked him. "Is it true or not?" He answered yes.
P. What did?
R. I was thinking of my son. In which I had to call him. I was very concerned about how he would find out the news. When we could talk, he had already found out from a schoolmate. Diego and Benja got along very well. Diego was a phenomenon with my son. And Benja loved him. I asked my sister to pick him up at school and try to distract him. The next day he wrote to me: "Dad, I want to go see him."
P. What did he say?
R. I did not like the idea. He was afraid that he would be left with a bad memory. But, as he wanted, I let him go. He went to the wake at the Casa Rosada with his mother.
P. Did he comment on something the next day?
R. Yeah right. He told me that he kissed her and that he started crying. I tried to restrain myself so that my son wouldn't see me badly. They were very difficult days. At least Benja was able to say goodbye to her grandfather.
P. Maradona was, at the time, the best in the world. Did you feel among the best?
R. He played for that. At City I did things very well so that the fans and the journalists could value me as one of the best in the world. I clearly know that there are better ones. And I have no problem admitting it. But it went well for me. I was at a high level and I won many titles.
P. Is the difference between you and players like Messi and Cristiano technical or mental?
R. Soccer. That talent comes from the factory.
P. Cristiano's too?
R. He is more forward than Leo. And what he has, like any scorer, is that when he is with confidence he makes goals, goals and goals.
P. Did you miss something else?
R. Many times I thought what was missing. And one day I asked Leo. He told me to have chances to win the Ballon d'Or he had to win the Champions League. And he is right. It is also important the subject of glasses with the selections. Take Cannavaro's case, for example, when he won the World Cup in 2006. I played great seasons, scored a lot of goals and won a lot of titles, but I wasn't in the Champions League final. And precisely, last year when we reached the final, I had a knee problem, covid and different injuries.
P. And problems with the coach?
R. No. I never had problems with Guardiola. I never argued with him. We did have to clarify things. When he arrived, as we did not know each other, we had a bit of a trial run. The last three years have been fantastic. Nothing to say. He is a coach who always wants the maximum. If he has a party idea in his head, he does it. He does not care if he has to leave out the team that had scored three goals in the last games. The name of the player does not matter. Unless it's Messi. I always accepted when I had to play and when not. Gabriel Jesús, as soon as he landed in Manchester, began to play as a starter. I said nothing.
P. But what was he thinking?
R. When my time would come, I had to keep working. And I do not forget. Gabriel Jesús was injured in a match against Bournemouth. There were no strikers and I had to play. In those three months, I scored 20 goals. I gave Pep the confidence he needed.
P. Do you regret having signed for Barça?
R. No. Let's be honest. What player does not want to be at Barça? I would tell you that the majority of footballers would like to wear this shirt, no matter how good or bad Barça is. I arrived with the expectation of playing with Leo and that a good team would be put together, which was what the club tried to do. When they called me, I thought: "I don't care what they pay me. I'm feeling good and I'm going to help the team as much as I can ".
P. How to start?
R. You can only consider yourself a starter when you do things well and help the team. Yes No No. And that's what I think about. In helping the team with a goal every time I play. Beyond the changes that happened, among them is the departure of Leo.
P. Was that moment difficult?
R. It was a moment of shock. He was very bad. When I found out I couldn't believe it. That Saturday I went to see him at his house. And, because of my personality, since I couldn't see him well, I tried to make him forget what had happened. I saw that he was half off and was trying to distract him. I was telling him about my team sports. And the things we were doing.
P. What was your first console?
R. The Family Game. The one of Mario bros. My old man got it for me. He bought it used. We still lived in the village.
P. And the first ball?
R. I asked for it for Reyes. You had to wait a year for each gift. I always played with my friends' ball. The problem we had in the pasture was that behind one of the arches there was a palm tree. And if you threw the ball there, it was punctured. It was catastrophic. I took care of my ball. He was rogue. Choose the good guys to play. The bad guys always threw it to the palm tree.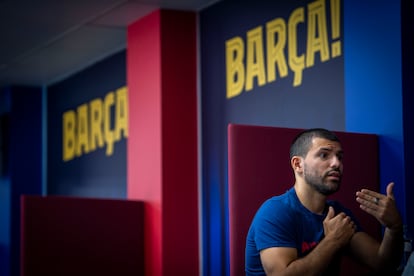 P. Do you remember the last time you went to the villa?
R. Was 16 years old. When I asked about the boys I was hanging out with, one was dead, the other prisoner, another was wanted by the police. 15-year-old boys. I still keep in touch with some of my friends. We keep talking, more than 20 years later.
P. What was your life like in the Los Eucaliptus neighborhood?
R. I listen to people in the villages talking and I think they have no idea what it is. Whoever is there has another life. It is in their world. There is a system of its own, with its greengrocers, its butchers and its stores. There is everything. And all at an affordable price for the people of the village. The problem is that it is very difficult to progress. It happened to me viejo. He was looking for work and many times they did not give it to him when he said the place where he lived. And that keeps happening. There are complicated people, too. Of course. But there is also a lot, like my old, who are people from laburo, who want the best for themselves and their family. But it seems they want us to always stay there. That we live our life there.
P. And how do you get out? With a talent like yours?
R. You have to have talent, yes. And luck. Good luck. You need someone to help you. I had my viejo. He knew a person who worked at Independiente. And every year I was going to break his balls to get tested. If it hadn't been for him, it wouldn't have come. I have spoken with other boys, like Carlos Tevez, and they all experienced a similar situation.
P. Can you only go out with soccer? What if it is studied?
R. Whoever lives in the village has to go to a public school. I'm going to tell what happened to me. I don't know how it is now. When I moved to Independiente, the club sent me to a private school. I was 12 years old. In the private they were doing three-digit divisions and in the public I was doing one. Imagine the difference. He was not qualified to be there. And I started to feel bad. I did not feel comfortable or free. I wanted to go back to my place, where the teacher understood me. It's a shame that happens. It is a pity that you have to resort to private schools.
P. There is a solution?
R. Perhaps the solution is through a greater participation of the municipalities (town halls). It doesn't have to be a national issue. A president cannot do magic. The municipality itself has to try to give people work. I don't know about politics. But I know what happens in a villa. People talk bad about social networks. And it may be that in some things they are right. But, at least, in social networks the reality of what is happening is shown. Before, people could only see what was happening on TV. That is not the truth. So, the one who lives in the village feels that they lie to him. I lived on both sides. I know how things are.
P. Did you thank your father?
R. Of course. Both of them, my mom too. But to me viejo I asked him why he was breaking my balls so much. He always told me that he played badly. To this day.
P. The same thing happened to Messi.
R. Yes. We have discussed it. And we shit laughing. My old man was very strict. He wanted me not to relax. When I grew up I asked him: Che, why were you shitting me? Why didn't you let me go play ball?
P. What did you answer?
R. That he did it because he realized that I had a lot of quality and that I made a lot of difference. I wanted to get it into my head that I loved football. Every time he forbade me to play, the more I liked to play ball, the more I wanted to go to training. Today everything changed a lot.
P. For instance…
R. Before, in my time, there was a lot of respect for the greatest and the coach, obviously. If they said something to you, or kicked you, you held it. If some great made a joke on you, you kept quiet. But all that we suffer, now we do not. And, since we treat young people differently today, they are overly trusting. Sometimes, you have to set a bit of limits. Today young people are very affected by what they are told. They get offended when you tell them they played badly. And it even lowers their morale. Is incredible. I have a good vibe with the little ones and I look for a way to tell them things so that they don't take it badly. I want to win. I don't want a low morale partner. But the same thing happens with my son. If he said something to you, he gets angry.
P. Play Well?
R. Play Well. But if you like football you have to have a different mentality. Sacrifice is very important. The last time he came to see me he asked me: "Did you never miss a training session?" Never, I replied. His face changed. Most of the players who arrive are because of discipline, because of the respect they show and because they are very responsible. I would like Benja to be a footballer, but if he doesn't like it, I want him to study. That he has the possibility that I could not have.
Melissa Galbraith is the World News reporter for Globe Live Media. She covers all the major events happening around the World. From Europe to Americas, from Asia to Antarctica, Melissa covers it all. Never miss another Major World Event by bookmarking her author page right here.