The event is watched by millions of viewers around the world. Almost two months after winning the US presidential election, Joe Biden officially entered the White House on Wednesday, January 20. An investiture organized at the Capitol, as usual, despite the coronavirus epidemic which upsets the traditional festivities. Health crisis requires, Americans are indeed invited to celebrate the event from home, to the rhythm of several highlights broadcast on television channels.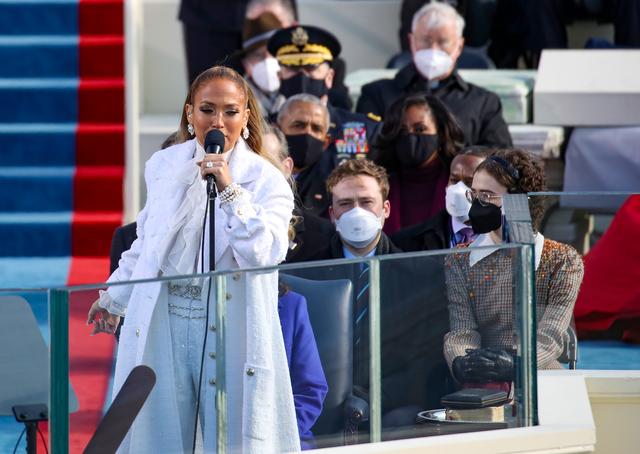 The arrival of several political personalities First, the 46 th  President of the United States and his wife Jill Biden also Kamala Harris, its vice president, accompanied by her husband Doug Emhoff,  his children Ella and Cole  and the former presidents Barack Obama, embraced by his wife Michelle, Bill Clinton and even George W. Bush.
A few minutes later, it was the singer  Lady Gaga , dressed in a flamboyant skirt, who made her entrance on the steps of the Capitol, in front of an audience of photographers. Just as she had done in 2016, during the Super Bowl, the interpreter of "Shallow" was chosen to interpret the national anthem, "The Star-Spangled Banner". Then it's superstar  Jennifer Lopez who performed a musical performance to welcome Joe Biden. Dressed in immaculate attire, she performed an iconic American track, "This Land Is Your Land" by Woody Guthrie.
As announced a few days ago, the nomination of Joe Biden will be followed  by a special program hosted by actor Tom Hanks  and broadcast on all major American channels. Called "Celebrating America", it will replace the traditional festivities around the President's inauguration ceremony and will be punctuated by several musical performances, including those of Demi Lovato, Justin Timberlake and Jon Bon Jovi.
Ben Oakley is the guy you can really trust when it comes to Mainstream News. Whether it is something happening at the Wall Street of New York City or inside the White House in Washington, D.C., no one can cover mainstream news like Ben. Get a daily dose of Trustworthy News by Ben Oakley, only at Globe Live Media.