Rihanna's legs are n't even afraid of the cold. This was demonstrated recently when she visited New York City , to attend Basquiat's exhibition at "Christie's NY", with a miniskirt that stole everyone's attention. The interpreter of 'Umbrella' combined the metallic violet miniskirt with a black T-shirt. She accompanied her outfit with a multi-colored down coat with purple, white, red and black feather details.
The billionaire businesswoman wore knee-length metallic purple boots, plus gold jewelry with a cross necklace and glasses to match the miniskirt. Rihanna also wore a brace on her right hand to protect her little and ring fingers.
The owner of Fenty Beauty was accompanied by her boyfriend, rapper ASAP Rocky, who sported a moderate and appropriate look for the New York winter, with dark jeans, a long plaid coat, a plaid scarf, a Gucci baseball cap and brown loafers with tassels. The queen paraded her powerful legs in stiletto boots with an enviable style, which sets the standard in winter trends, holding hands with her boyfriend to enter the Christie's auction house and enjoy the Basquiat exhibition.
On November 29, Rihanna was named a national hero of Barbados, her country of origin, where she received the highest honor of her nation, just when the Caribbean island decided to become a republic and say goodbye to the British monarchy . Various world leaders and personalities, including Prince Charles of England, attended the ceremony held in the popular Heroes' Square in the capital, Bridgetown. "Nothing compares to being recognized in the land where you grew up," the artist said during her acceptance speech. "Barbadians are a proud people. We are probably the proudest people I know. No matter where I go in the world, I take that pride with me."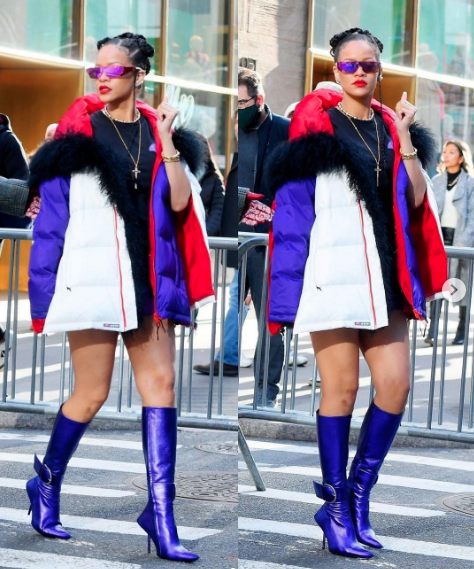 Since 2016 Rihanna has not published an album, she has focused on the attention to her companies, both her makeup and skincare brand, Fenty Beauty, and her lingerie line, Savage X Fenty. S or business strategy turned to his 33 years in one of the richest women in the world, estimated at nearly 2 billion fortune. Although her fans long to see the queen on stage again, for now she has only announced the launch of a new musical project, which compiles her previous works on a collectible album entitled RihIssue. In Barbados, journalists approached Rihanna to ask her about her projects and her return to concerts to which the diva only replied "soon, soon, soon"."I am always working on new music. Just because I haven't put out an album in several years doesn't mean I'm not working on it. What I can't do is put out new music just because people are wanting it. I want it to be worth having waited so long, and I assure you that it will be ", said the artist.